Most races start in the early morning hours—I wake up and roll out of bed, out of a back seat, or out of a tent somewhere half awake, barely conscious, and then take off running. The Madeira Island Ultra was not like this. It started at midnight leaving me with a lazy day checking, double-checking, and second-guessing gear choices.
This was the first race I have done with a required gear list. During the packet pick up I had a question about the required waterproof jacket on the list. I typically run in a light-weight shell from Brooks Running which has served me well in almost any condition, however the race director said it would not work for this race for how cold it can get in the mountains and the sudden changes in weather they can receive. So in order to meet the requirement I was required to pack my wife's Goretex shell in my race pack to avoid disqualification in case I was checked (they have periodic checks throughout the course as well as the end of the race).  This, along with the heat blanket, 100x6cm bandage, multiple head lamps with back up batteries for each, took up most of the space in my pack and restricted the additional food and gels I would normally pack with me.
Once I was all packed I walked down into the seaside town of Machico around 9 pm, joining the hundreds of other runners anxiously waiting to board the buses that would bring us to the other end of the island where the race would start in Ponto Moniz. It is an intimidating experience standing around with ultra runners from over 29 countries waiting to race. I don't know if it was the compression gear they were dressed head to toe in or the energy level of the crowd, but it was the slowest I have ever felt before starting a race. I closed my eyes on the bus listening to the white noise of the conversations in foreign languages I did not understand and focused on what lay ahead.
I have read that Ultra Marathons in Europe start fast and to avoid getting caught up in this I lined up in the very back of the pack. I was determined to follow the race plan I had and I know myself well enough to know I needed to avoid getting caught up in a fast start (I am a sucker for fast starts). Once the start was signaled for a moment I thought I was mistaken about the distance of the race because everyone took off like it was a 10K. Over 12,000 of the 13,500 feet of climbing is in the first part of the race, so going out hard did not make much sense to me, especially since all of this climbing would be done in the dark. By the second checkpoint I had cracked the top 30 with this strategy and continued to pick up runners here and there throughout the night.
One thing I was really impressed with was how strong everyone seemed to be on the climbs. Spending the winter training on a treadmill and country roads I did not have any climbing form and when I was passed on climbs I felt pedestrian. Every time I race I always look for strengths and weaknesses of other runners, and while climbing seemed to be everyone's strength, descending certainly was not. Coming from New England I am used to rocky technical trail and Madeira only sporadically had anything close to this. I was actually surprised by how runnable the course was once you get the major climbs out of the way.
The sun came up at 7:45 AM after a 13 kilometer climb that felt like it would never end, I finally had the chance to be rewarded for the effort. I found myself running above the clouds on single track that dropped off hundreds of feet into green valleys on either side. It was a little overwhelming to have the vail of darkness lifted and be transplanted into what is one of the most unique and beautiful places I have had the opportunity to run through.
By this point I was out of food and water— my fault for not spending more time calculating how far apart aid stations would be along the course. Fueled on a couple cups of Coke I made my way into the checkpoint at Pico Ariero, where my first and only drop bag would be with a cache of calories. While trying to get down as many calories as I could I noticed a half dozen runners were taking the time to change from the clothes they wore through the night. One thing I learned when pacing Moncia Scholz at the HURT 100 years ago was that there is free time to gain at aid stations. If you can grab what you need and get moving as fast as possible you can pick up free time on your competitors, and this is what I did.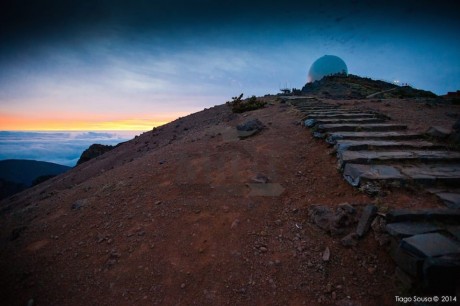 Reaching Pico Ariero now meant it was time for the longest descent of the race and this is where I had planned to just go for it. This part of the race stands in stark contrast to the first 50 kilometers. The final 32 kilometers winds its way down from Pico Ariero, one of the highest points on the island, through a pine forest covered in a heavy mist. I started to pass runners from the 42K race that started that morning and their presence was a huge motivator to keep my pace up.
With 10 miles to go I hit my lowest point of the race. My legs felt great, but neglecting taking in enough calories in the previous stretches caught up to me. This lasted for about 4 miles until someone at the next aid station informed me I was running in 24th position. I knew there were two spots I had a chance of picking up if I got myself out of this hole so I downed as many calories as I could and focused on the finish.
You have to love races that put one last climb before the finish – just a reminder that the work is not done until the race is over. At the top of the last climb looking back I was greeted with sea cliffs dropping off into the Atlantic.
Finally there was less then 5 kilometers of descending, some of it really nice single track into the town of Machico. I almost missed one of the last turns down to the ocean where the race finishes but an old lady tending her garden corrected me before she went back to her work.
It is always a little bittersweet finishing an ultra race. While it was good to be finished and I was happy with the effort I made, my mind was already thinking about when I might ever run through this landscape again — you make a real connection with a place spending so much solitary time running on its trails. I finished 23rd overall and I hope to someday return to see if I can better the person I was on that day.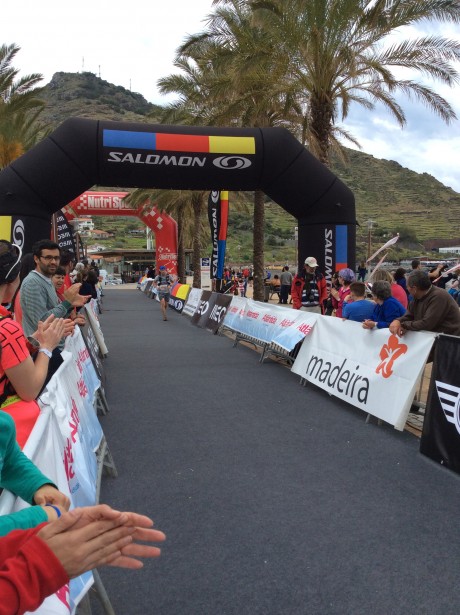 Post Race Thoughts:
Last fall, when I sat in a teahouse in Waterville, Maine looking for potential races, I had never heard of the island of Madeira. Now I wonder how that is even possible. A short plane ride from Portugal and you are here, in one of the most incredible landscapes I have ever seen: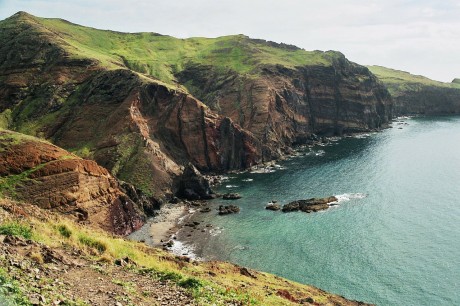 The landscape was not the only thing that impressed me, but also the people. Running across this island is nothing compared to the effort or time that it would have taken to cut the Levadas into and through the mountains of this island.
Everyone we interacted with during our time on Madeira seemed to have a real connection with their environment and culture— an appreciation of what they had and an understanding of the importance of taking care of it. This was one of the most well organized races I have had the opportunity to take part in. Every aspect had been thought of and executed from the transportation to the start of the race, well-placed course markings with volunteers at major turns, to the post race celebration.
The challenge now is to recover while maintaining fitness into Ultra Trail Barcelona, now less than one week away.
Photography Credits: Nuno Miguel Delgado and Tiago Sousa