Going into the 2013 HURT 100 Miler I signed up for the TARC Fells Ultra to use it as a supported long training run. The course is billed as "a nightmarish course of rocks and roots" which sounded a bit over the top as the race is so close to Boston. I went into the race looking to complete the distance and get a good effort in leading into HURT.  I ended up DNF'ing (did not finish) after slogging through 3 8-mile loops in the sleet and snow.
This year's race went a bit different. I am again training for the HURT 100 in January 2014, hoping this will be the year I finish the race that drew me to running these long distances in the first place. I decided not to taper going into the TARC race, logging 41 miles in four days with Friday as a scheduled rest day. During the week I got two runs of over 13 miles in and a treadmill 5K in 18:24. I did not want to feel rested for this race hoping instead to simulate a difficult day of running in preparation for HURT.
The race started promptly at 7am and runners took off heading to the course loop. The interesting thing about this race is that runners can complete the course clockwise or counterclockwise. I made my way to the front of the group and started a counterclockwise loop with John Beliveau, the winner of the Bradbury 50K, and Kristina Folcik, a La Sportiva runner. Kristina knew the course well and the first loop consisted of John and I pulling ahead and missing a turn and backtracking a couple times while Kristina ran steady and smart and finished her first loop directly ahead of us.
Heading out on the second loop John set a comfortable pace for the first several miles and then fell back a bit. He was racing the 40 miler so it was a smart move on his part. This is where I would go on the rest of the race solo. Almost all of the other runners ran the course clockwise, including the eventual winner Timothy Connelly. The only way I had to gauge if I was picking up or losing time on the race leaders was where I would cross paths with them on the course.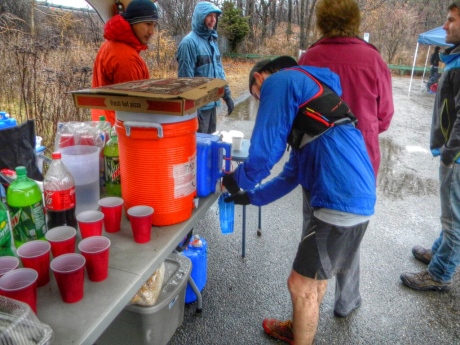 This might seem like a disadvantage but it worked out well for what I had set out to do in this race. I was able to run my own race and pace totally on feel. I ran comfortably through the first 3.5 loops and ran hard to the finish with half a lap to go. My goal going into this race was to feel comfortable through the entire race and to run under Adam Wilcox's unofficial course record time of 5:38 from 2010. Adam is a talented and accomplished runner in New England so I knew whatever mark he had set on this course would give me an idea where I was at with my training leading into my 100 miler in January.
The weather deteriorated throughout the race with the temperature dropping and the rain falling harder. Trail conditions were muddy with streams forming down the middle of many sections. One thing I have been working on with my running is turning what could be perceived as a negative into a positive. Cold rain? Kept me from overheating. Muddy and slippery trails? A chance to work on footwork and stability. Ankle deep freezing water? A chance to wash the mud away and feel refreshed. Viewing elements like this helps creates a positive mindset when facing challenges. Being able to change the way you perceive challenges can greatly change the way you work through them.
The highlight of the race was that in running the course counterclockwise I was able to encourage the other runners on and them me. This is one on the aspects that I love about ultra running – everyone is facing the same struggle and pulling for each other. Often runners would give me the right of way, which I was really appreciative of them for doing so. The respect for each other is a common theme at TARC events, as they have really fostered and grown an amazing community of runners.
After finishing I took a few minutes to talk with friends who had come out to see me finish. I was fortunate to have friends in the area that let me shower after the race instead of driving the 3 hours home soaked and covered in mud. I decided after showering to head back to the race to see some other runners as they went out for their fourth and fifth loops and to thank the volunteers for giving up their day to stand around in the rain to feed and take care of people.
Equipment:
Salomon Advanced Skin Lab Hydro
Patagonia Houdini Jacket
Fayettechill Guero Hat
Suunto Ambit2
Nutrition:
2 Honey Stinger Gels
6 Succeed SCAPS
64 Ounces water
1 Stinger Waffle (Post race)
Result:
2nd Overall, 5:33:12, 32 Miles, 6,335ft climbing
Race Photo Credit: Douglyss Giuliana