This past weekend marked the first time I have left the state of Maine in the past 14 months due to the pandemic. But a positive thing that has come out of this time has been reconnecting with a runner I helped coach at Thomas College. When outdoor track was cancelled in March of 2020, I ended up going for a run with Jarrod Ottman while he was still in the area. We talked about how the last few years have gone for him and his running in college and where he wanted to take it; about a week later, we started working together.
Through the spring and summer, we watched as his times dropped across the board. We had found a rhythm. The difficulty was that this was happening during a global pandemic and finding racing opportunities became difficult and with his work he is restricted on travel because of the age of the population he works with. In September a very small group of runners ran a half marathon time trial here in Maine around Crystal Lake and he ran 1:08:53 (5:15 pace). What made this more impressive is the fact that after the first 5K of the race he soloed while having to contend with open roads and traffic. To give further perspective his 8K PR in college was 26:37 (5:21 pace) which came in his junior year.
Fast forward to this past weekend and there was finally a half marathon that had strong competition locally and it would be the first time for Jarrod representing Tracksmith as a member of their race team. Looking at the course map and knowing Providence I knew it would be better to focus on racing and not on hitting a hard time goal and better to have a range for this course. With the many turns and short punchy hills mixed with a few extended hills racing the field made more sense.
I decided to bring my bike to spectate and watch the race unfold, being sure to keep my distance from the lead guys and Jarrod. Every few miles I would ride ahead and take photos. From mile 4 to 5 Jarrod closed what was about a 7 second gap, pulling close to the back of the group of Heartbreak runners that were setting pace.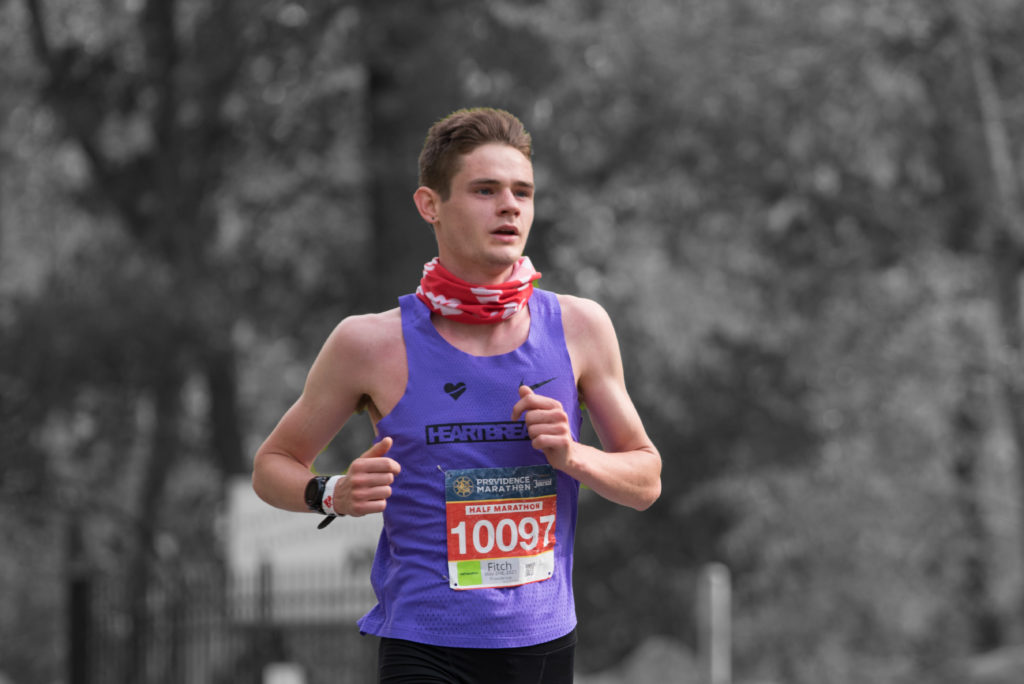 Miles 5 through 8 he traded positions until he was the one setting pace, eventually opening a small gap that would continue to grow through mile 10. With a quick glance at each other at the 10 mile mark we both knew this was his race.
From here I rode ahead to the finish. Cresting the last hill on the bike before the turn into the finish I saw his dad anxiously awaiting and I just held up one finger. Watching his dad realize that his son was in first was one of the highlights of the day. As a coach one of the most rewarding things to witness is someone realizing their potential. It might come in a workout or setting a new PR or even just finishing something that seemed insurmountable. There is a moment when an athlete has that realization and being able to witness it happen is a gift. This was one of Jarrod's moments.