One of the most common questions I am asked is what type of shoe do I run in. People often form very strong opinions of specific brands and trends in running shoes to where I have seen arguments online spiral out of control into name calling. Everyone wants to know and have the "BEST" whether it is running shoes, hydration packs, race nutrition, or training plans. A lot of time and money can be wasted in the continuous pursuit of the best and ultimately take focus away from what is important: Running.
Different shoes are good for different things. At any time I typically have 3-4 different shoes I am running in for both road and trail and none of them are the same brand. Some have been great and others disappointing but again that is all based on personal opinion. After being a wear tester for several shoe companies I feel better equipped at knowing what to look for in a shoe in terms of construction and return on value. I also know I am only a sample size of 1 and that what may work for me may not for others.
With that said I wanted to write a review for the HOKA Challenger ATR's as it has been one of the shoes I have been running in this year and it is due for mass release this April.
The Shoe: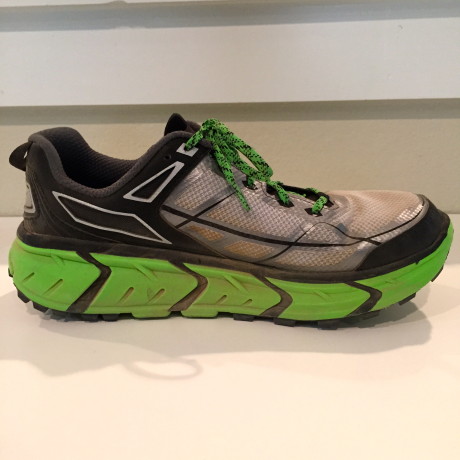 Hoka One is one of those brands of shoes where people either love them, hate them, or are extremely confused as to why someone is wearing moon boots to go running. After having some issues with my feet later on in races (50+ miles) I finally broke down and spent what I still think is too much for a pair of running shoes and bought a pair of Hoka Stintson's ($160.00). I used these in training and to complete my first 100 miler with mixed feelings about the shoe. They were extremely durable but found with the stack height combined with the weight of the shoe to be less than desirable even if they did save my legs for later into long runs or races.
This brings me to the Challengers. I got the shoe in December to start incorporating them into training for the HURT 100 in Hawaii. They did great on the frozen trails and winter back roads of Maine. But I was still not sure how this would correspond to the heavily rooted technical running on Oahu. After multiple 20 mile training runs on the HURT course as well as using them for 85 miles during the race I can say they withstood everything I threw at them.
I think Hoka One One is heading in the right direction with this shoe. Like everyone else I want everything in a shoe. I want a lightweight shoe that is responsive with a well thought out tread pattern that is effective in multiple conditions. I expect a certain return on value of a shoe as well. The Challenger ATR retails for $130.00 which is still more than I think you should spend on a pair of running shoes, however I have over 500 miles on my first pair and expect to extend this to somewhere around 600 miles before I retire the shoe.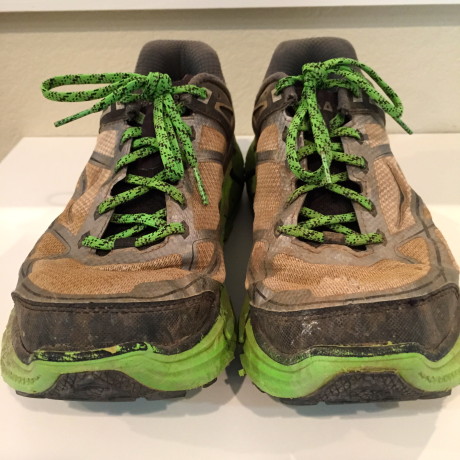 One thing that has to be considered is someone is going to wear out a shoe differently than the next person. There are a number of factors that go into this (weight of runner, foot strike, running surfaces, etc.).
Specs:
Use: Trail
Offset: 5mm
Heel: 29mm
Forefoot: 24mm
Weight: 8.6 oz. size 9
Pros:
Light
Versatile over different terrain and weather conditions
Fast (I have used the shoe during tempo/repeat workouts and it has responsive turnover for this style of shoe)
Cushion
Cons:
Price ($130.00 @ 500 miles = .26 per mile)
Premature wear on the upper specifically through the toe box (this wear may be attributed to having over 160 miles on the HURT course during training and racing)
Bunching of the insole in the heel (photo example below)
Could use more room in the forefoot. My first pair I noticed on longer runs I felt like I wanted more room up front but I have not experienced this with the second pair I have started using. This could be from the humidity level in Hawaii versus Texas where I just ran 32 miles this past weekend with no issues.
Would I buy them again?
Yes, and I already have. As I phase out the old pair and break the new pair in I have gotten the chance to experience the shoe at both ends of its lifecycle and overall I have been more than happy with it. I think Hoka is heading in the right direction and I will at some point this summer run in the Clifton (the road version of this shoe). My hope is that quality control and materials used (specifically the uppers) continues to improve in the second edition of this model.